Following the implementation, on April 1, of good practices in long-haul flights to carry out the selective collection of waste on board, a series of monitoring characterizations have been carried out to evaluate the quality of the separation.
Two flights arriving to Madrid airport on May 20 were selected, one of them from New York and the other from Bogotá, to analyze how the separation on board had been made by the cabin crew.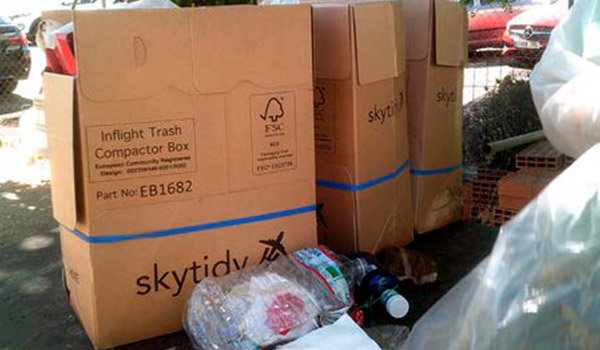 Cabin compactor boxes for recyclable waste
These flights have several waste trolleys, where the non-recyclable waste is deposited, and several compactor boxes, where the recyclable waste that has not been in contact with food of animal origin is collected: mainly cans, bottles and plastic cups and briks.
In the coming weeks, we will have the results of the characterizations in the form of percentages by weight of each of the types of waste found.
Examples of waste found in the compactor boxes