After participating in the Sustanaible Cabin Forum in Lisbon on May 16, Joaquin Mateo, Director of Compliance at Gate Gourmet Madrid, who presented the LIFE Zero Cabin Waste Project as an example of an initiative that aims to maximize the waste reduction and recycling and avoid landfilling, has answered some questions:
Is there any conclusion that you have taken from the Forum?

On the one hand, I see that all the stakeholders involved (IATA, airlines, airports, catering companies, etc.) want to improve waste management and recognize it as a priority, but on the other hand, I see an inflexible legislation that does not understand the problems in the aviation sector. I believe that this forum has given visibility to the authorities of the environmental problem of the incineration or landfilling of Category 1 waste.

What sustainability measures do you see most accurate after your visit to the conference?

I believe that, as a first step, it should be created a forum of experts that have direct access to European regulators and propose sustainable solutions that are also safe from the health point of view.

Do you think it is important for catering companies go for a more sustainable waste management model?

We have a fundamental role in the management of waste and fuel consumption. I think that we don't have the choice, catering companies have a responsibility that shouldn't avoid.

To what extend do you think that the LIFE Zero Cabin Waste Project brings news solutions to the aviation environment sector?

ZCW is demonstrating that waste management systems can be completely changed, that the solutions it poses are not only sustainable from the environmental point of view but also financially speaking.

Do you think that the Life Zero Cabin Waste Project has positively influenced the attitude towards the Environment of Gate Gourmet?

Yes, not only in the Madrid unit, but at the Gategroup level. ZCW appears in all the group's reports and we have had a decisive influence on the creation of the group's sustainability strategy. "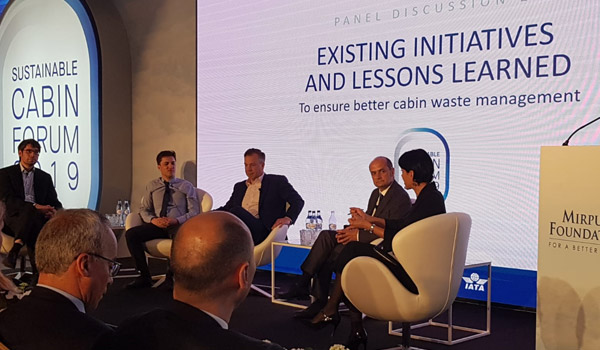 Panel Discussion 2: Existing initiatives and lessons learned to ensure better cabin waste management.
Matthias Reiss, Peter Goodwin, Mark Tomkins and Joaquin Mateo.