On June 14, a new follow-up meeting of the LIFE ZCW Project took place at the Gate Gourmet facilities in La Muñoza. The meeting was attended by representatives of Iberia, Ecoembes, ESCI-UPF, Ferrovial and Gate Gourmet.
The objective of this meeting was to prepare the visit of the Project Adviser of the LIFE Program of the European Commission, which will arrive next Wednesday June 26 in Madrid. In this regard, the latest advances and next steps of the project were reviewed to present them during the meeting, as well as the different materials published around the project: videos, training and promotional materials, etc.
Among the most worthy advances in recent months, we must highlight the expansion of the sorting of waste on board to all domestic, European and international Iberia flights, achieving one of the major goals of the project.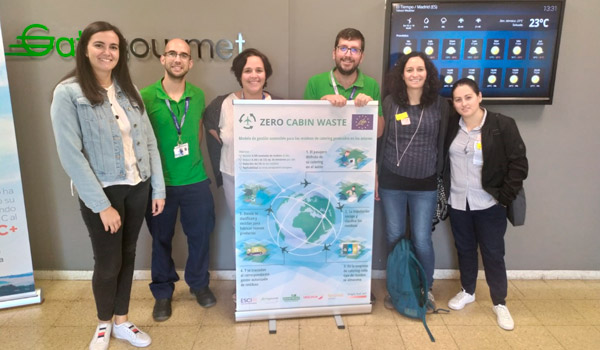 Representatives of Iberia, Ecoembes and Gate Gourmet after the meeting at Gate Gourmet facilities.