On July 2 Gategourmet held a meeting with Air France and Servair (a catering company belonging to Gategroup) to explain what the waste management model proposed in LIFE ZCW consists of and how this model could be replicated in Air France.
Throughout the meeting the protocol for the segregation on board by the cabin crew and good practices developed both on the plane and in catering were discussed. In addition, Gategourmet, showed the tool "Offload Analysis" (OLA), which aroused great interest, with which we can obtain product consumption ratios in flights to efficiently adjust the load of them, avoiding unnecessary weight in the plane and reducing both the amount of waste generated and the fuel consumption.
Air France and Servair showed interest in implementing the measures of ZCW to improve waste segregation, for which they will have the LIFE ZCW consortium's support. In the coming months more meetings will be held to outline the details of the acquisition of the know-how that Gategourmet has obtained during the project.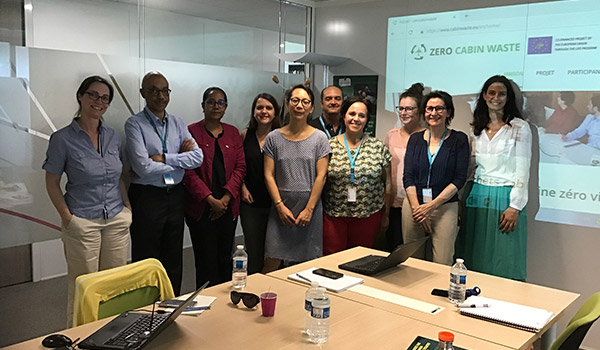 Meeting between Gategourmet, Air France and Servair