In the context of COP25, Isabel I University organized the event Environmental Preservation: Impact on Social and Economic Development. Dr Tania Corrás, from Isabel I University, introduced the event, which started with the presentation of Rafael González Quirós, deputy director general of Research at the Spanish Institute of Oceanography, Oceans and Climate Change: Research Challenges for the Future.
The influence of climate change on the oceans has a direct effect on fishing, as explained José Antonio Fernández, a big data researcher for Marine Innovation and Research at AZTI. Pedro Llanillo from Chile – country that chairs COP25 – focused on climate emergency and its potential effect in Antarctica. 
María Soledad Albarrán, waste technician at Ecoembes, presented the Out-of-Home Pickups line and the Life Zero Cabin Waste Project, as an example project of this type of waste collection. In addition, Rosa Chavarri, head of the Upcycling the Oceans Project, commented on the project development and the results obtained.
Pedro de la Fuente, deputy delegate of the Government in Burgos, closed the day.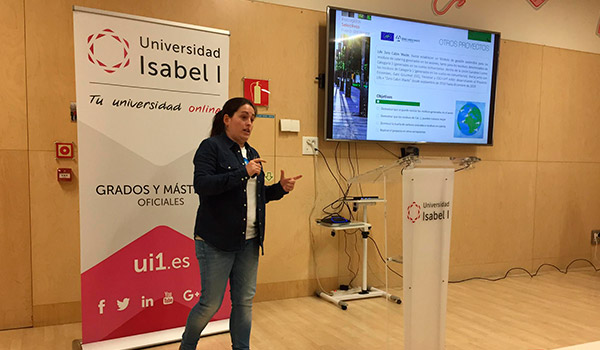 María Soledad Albarrán Boga, Ecoembes, explaining the LIFE Zero Cabin Waste project.