On October 9, the waste selective collection began on Iberia's short and medium-haul flights, through the implementation of the separation and collection protocol of Zero Cabin Waste.
Iberia's crew carries out the separation of waste thanks to the new model of two-compartments waste trolley approved in the last trial phase developed in June. In this trolley, the light packaging waste and paper (recyclables) and the other waste (non recyclables) are sorted.
Once the flight is over, the waste arrives at Gate Gourmet facilities where the staff dispose of the bags with the recyclable and non-recyclable waste in the appropriate compactor.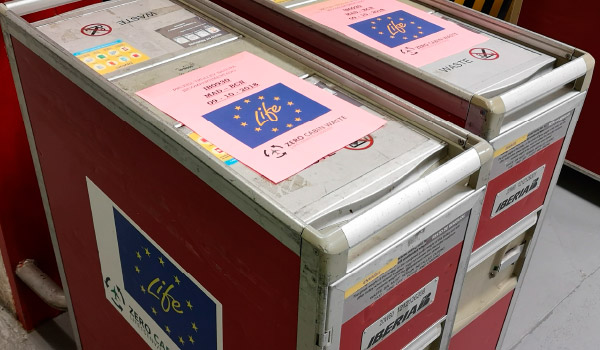 The first destination to have separation on board was Madrid – Barcelona flights and it has been extended to other national destinations (Bilbao, La Coruña, …) and Europeans (London, Geneva, Zurich, …). Currently, a total of 20 daily flights are covered and in the next months all national and European flights will be reached.
During the first months of implementation, Gate Gourmet staff monitors the quantity and quality of the waste separated in order to detect incidents and make easier the work of the crew. In these first weeks of implementation, from October 9 to 31, 629 kg of packaging and paper has been collected and recycled.