Gonzalo Blanca, responsible for the Life Cycle Analysis of catering waste management within Zero Cabin Waste, defended the Thesis Plan at the Polytechnic University of Catalonia on February 20 and was able to face the last year of the doctorate program.
In the presentation, Gonzalo explained what the LIFE Zero Cabin Waste project consists of and how it fits into his thesis. He presented the results achieved to date and those expected for the last year in relation to the thesis. Subsequently, in the question time, he successfully answered the questions asked by the court.
Within the framework of the LIFE Zero Cabin Waste project, it was foreseen a doctoral thesis developed by a junior researcher and 4 papers published in international scientific journals. In September 2018, the first of these articles was published: Tackling international airline catering waste management: LIFE Zero Cabin Waste Project. State of the Art and First steps, in the journal Detritus. Multidisciplinary Journal for Waste Resources & Residues.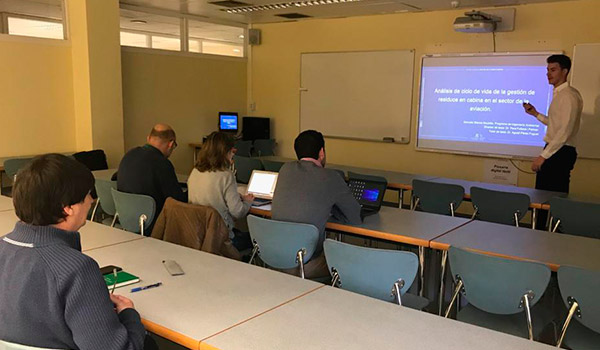 Presentation of the thesis plan to the university committee