On June 25 and 26 we received the visit of Aurelio Napolitano, representative of the Life Program of the European Commission, and Raquel Naverrete of NEEMO, both of them are in charge of the monitoring of LIFE Zero Cabin Waste.
The main objective of the visit was to check the last year progress in the project, as well as to assess the challenges to be achieved in the final stretch of the project, since the technical actions end in 2019.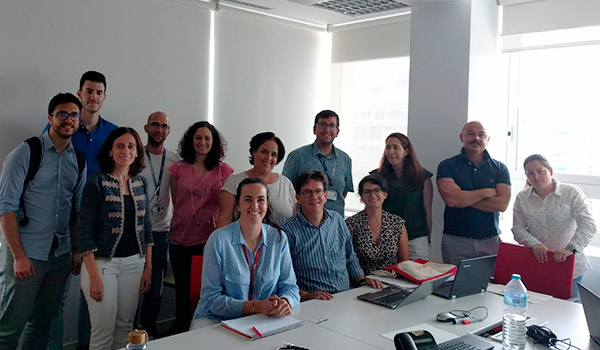 LIFE ZCW team with Aurelio Napolitano of the European Commission and Raquel Navarrete of NEEMO.
On June 26, the Gate Gourmet facilities were visited to see the bi-compartmented bins that are used to sort the waste in Iberia's European flights, as well as the waste storage area where the different categories are kept separate in the catering. After this, there was a meeting to review each of the actions of the project and their status.
On June 27, the meeting took place in Iberia offices. The most important points of the pending actions were reviewed: the replication of the waste management model and the tests of the alternative treatment for Category 1 waste. Aurelio Napolitano and Raquel Navarrete contributed with their vision on how to approach these issues in the coming months to achieve the objectives set in the project.