To show TCPs the entire process of waste once they have been segregated at source during the flight, Iberia has made an explanatory video where the Gate Gourmet and Ferrovial facilities have been visited.
Nieves de Castro – Manager Risk, Security & EHS- explains how Gate Gourmet receives the waste of short and medium haul flights, as well as those of long haul, and indicates the different treatment that they have based on the origin of the flight.
Subsequently, we have visited the selection plant of Ferrovial and Pablo Rodríguez – Technical of Operations and Projects- explains the classification of the waste based on its composition by materials (plastics, cans, bricks and paper-cardboard).
Silvia López –Ecoembes- comments on the coordination carried out on all waste management and examples of new products created from recycled material.
Finally, the TCP and Marina García Aedo –Environmental Manager of Iberia- summarize the project and try to motivate their colleagues to collaborate and keep being an example of good practice in the sector and contributing to the protection of the environment.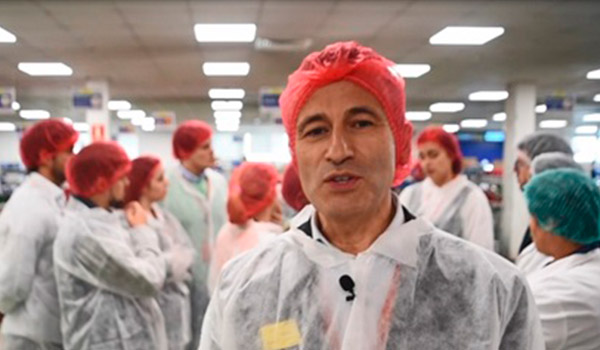 Explaining the project at the Gate Gourmet facilities.