A follow-up meeting of the LIFE Zero Cabin Waste Project took place on Friday, November 8. The meeting was at Ferrovial's offices in Fuenlabrada and representatives of the different partners of the consortium attended: Iberia, Gate Gourmet, ESCI-UPF, Ferrovial, Ecoembes and Transfer Consultancy.
The main objective of the meeting was to know the technical and administrative deadlines for the closure of the project. Among the most important activities currently being coordinated is the preparation of the technical seminar and final conference, drafting of the different final technical reports and updating indicators.
In this final stretch of the project, the last meetings of the consortium will take place, with a view to profiling all the information relevant to the closure of the project.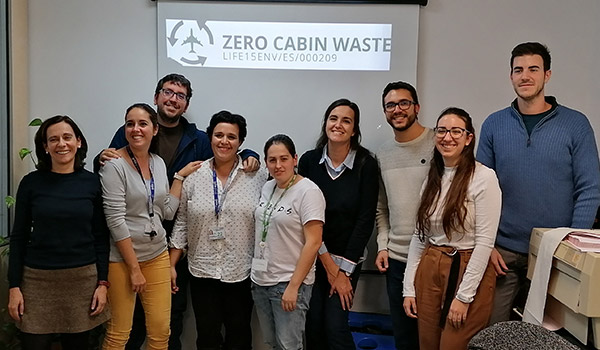 Representatives of Ferrovial, Gate Gourmet, Ecoembes, ESCI-UPF and Iberia after the meeting.